If you are new to St. Bart's, You might need ideas on how to get around. Below are some of the best ways to get around in St. Barts.
On arrival
If you had pre-booked a ferry service, Upon arrival at St. Bart's Gustavia Ferry Terminal,  Car-rental companies can meet you at the island's ferry terminal.
Gustaf III Also known as Aéroport de St-Barthélemy is St. Barth's only airport, it has car rental desk for the major car rental companies. The airport also has a taxi rank. Also, some accommodations offer shuttle services.
Taxis
Taxi fares in Gustavia range from pricey to very pricey. There are no set taxi fares, so prices are charged based on the driver's discretion which is often times overboard. The least fare charged for a taxi ride between Gustavia and the airport at minimum is between €15 and €45 and a ride from Gustavia to Petit Cul-de-Sac could cost between €30 to €60.
Between 8 pm and 6 am daily, and all day on Sundays, taxi fares are increased by about 50%. Booking a taxi in Gustavia is easy, you can book at the taxi stand in Gustavia or contact the drivers directly. To contact a taxi driver directly, you can check the tourist office for a list of drivers and their phone numbers.
Driving
Traffic is quite a problem on St-Barth and public parking spaces are thin on the ground.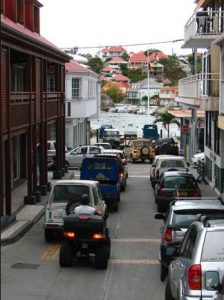 The roads are quite narrow and not well paved, visitors driving on the island need to be mindful of cars coming in the opposite direction. Visitors also need to be careful when driving through driveways of hotels and villas as many of them can be extraordinarily steep.
Driver's License
Your home country's driver's license is valid in St-Barth.
Fuel
St. Barth Island has only two gas stations. The one in St-Jean opens from 7.30am to noon and from 2 pm to 7 pm on Mondays to Saturdays. The second one is in Lorient, it opens from 7.30am to 5 pm on Sundays to Wednesdays and Fridays. On Thursdays and Saturdays, it opens at 7.30am to 2 pm
Rental
All major car-rental companies have desks at the airport. Prices vary according to the season. Car rental rates start from about €70 per day for compact cars between December and April. While during low-season, prices per day can start from €40.
Car-rental companies on the island include:
Budget
Chez Beranger
Europcar
Gumbs Rental
Soleil Caraibes
Scooter rental outlets are Barth'Loc and Meca Moto. Barth'Loc also rents ATV quad bikes, while  Meca Moto rents Harley-Davidson motorbikes as well.
Road Rules
Driving in St. Barth's is on the right-hand side, the speed limit is 45km/h, unless otherwise by the authorities. Also, when driving, visitors have to watch out for Land tortoises as the creatures have right of way on the roads.