Canberra was purpose-built as the capital city of Australia and is a three-hour drive from both the beautiful beaches and snowy mountains of New South Wales. It is a city which shapes Australia's future and honors its past. With colorful events, relaxed attitude, and an expansive bush beauty, Canberra is more than the political capital. This city was designed for a young nation just finding its feet and is home to many of the most important stories of the country.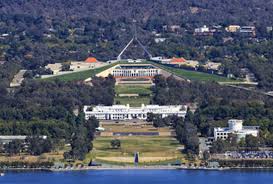 Lake Burley Griffin is at the heart of the creation story of Canberra. A long-standing rivalry between Melbourne and Sydney meant neither one could be the capital of the nation. Instead, the government in 1911 launched an international design competition seeking a master plan for a new city. The victor was Walter Burley, a Chicago architect. His design focused on a man-made lake which perfectly fits within the landscape. Head to the lookout at Mount Ainslie to understand the genius of the design.
Lake Burley Grifin shores are home to the Parliamentary Triangle, a precint filled with some of the most significant buildings in Australia. This national icon is instantly recognizable to all Australians. Its design was the winner of an international competition just like the city itself.
Although the center of Australia's political power, it has a relaxed approach to welcoming its visitors. Take a tour to see how history happened before heading up to the roof for breathtaking views of the city.
The Old Parliament House is just a short stroll away. This beloved building's corridors are a time capsule of some of the most pivotal moments in Australia. Work into the Office of the Prime Minister which still looks as it did in 1988 when the government moved.
The building housing Australia's National Museum was designed around the theme of a jigsaw puzzle intertwining the many tales of Australia. See Australia's first locally made car, a prototype of the Holden and the huge heart of Phar Lap, a racehorse which captured the entire country's imagination.
Throughout Australia's history, only a few characters have captured its imaginations like Ned Kelly, its most infamous outlaw. To enjoy a stunning collection of portraits of prominent Australians, visit the National Portrait Gallery. From Andy Thomas, the country's most famous astronaut, to the talented duo behind the international powerhouse Sass and Bide, these pictures tell thousands of stories.
At the National Library, more incredible stories await. See the original diary of Captain Cook which accompanied him on his first voyage to Australia. Cook claimed this southern land for England in 1770, opening a European chapter in the history of the country. Australia was established about 100 years later.